Tour outside Ninh Binh
Unforgettable excursion 2 days 1 night in Halong Bay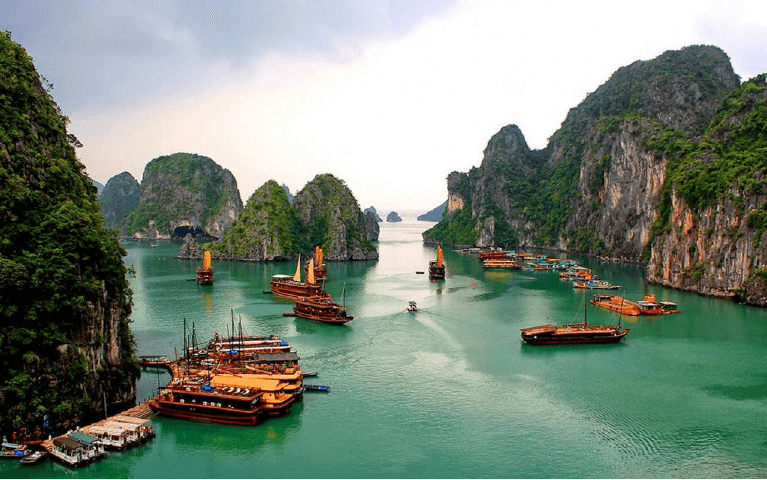 Day 1. Cruise, Visit a cave, Kayak
Arrival at Halong's Tuan Chau  port  around noon to board the cruise ship. A subtle blend of traditional and contemporary decor, our boat was conceived and designed to meet the standards of beauty required of such an alluring location. The crew greets you on board with a welcome drink while the captain sets sail.
After settling into your cabin, lunch, a succulent serving of seafood, served in our panoramic-view restaurant, is an indulgence to be savored. Not only sense of taste, but also that of sight is aroused by gazing upon the majestic karst landscapes through which we sail. The upper deck allows for aspectacular 360- degree view.
We throw anchor near a small island to visit Me Cung cave, former refuge of pirates who once scavenged the bay. This magnificent sanctuary, a geological formation of mysterious stalagmites, has, throughout history, given rise to countless myths and legends.
We head towards Luon cave, where we once again throw anchor and set off by kayak at the base of the vast verdant cliffs. Gliding along the bay in absolute quietude, one can more fully appreciate the myriad of limestone formations.
We kayak back to our exclusive boat to pursue our voyage. Under clear skies, the upper deck offers a vista onto the magical performance of the sun descending below the horizon of the violet sea, creating a whole palette of  incandescent colors. After a refreshing drink, a cooking class, in which you will learn to prepare mouthwatering, crispy spring rolls as if by second nature. Dinner will be a  gastronomical experience of meticulously prepared seafood dishes. Overnight on board.
Day 2. Cruise, Tai Chi, Swimming
As the morning mist evaporates and  gives rise to a labyrinth of primeval forest, we welcome the dawn with a session of Tai Chi on the upper deck. What better way to start a perfect day, one that should, ideally, never end.
After breakfast, we set anchor to go to Titov island, where we have the option to swim and/or climb to the island's peak for a breathtaking panoramic view of the bay.
Subsequently, we cruise back towards terra firma. After breakfast, it is time to bid farewell to the crew and to prepare for disembarkation.