Frequently Asked Questions
When staying at Maison Quê, you have a fully-furnished house, parking lot, 1-time cleaning service after your stay, 400 kWh of electricity per day (each extra kilowatt-hour per day is charged for $0,5), wifi & bicycle use.
The entire house is open for guests which can accommodate 6 adults and 2 children aged under 12 years. Only one booking at a time is made so the house is not shared with other party even if the booking is made by a single guest. Guests have free access to the outside areas of the entire house.
Check-in: 15h00 (3pm).
Please notify us of your arrival time at least 30 minutes in advance. We will be available to welcome you and help you get settled in Maison Quê.
Check-out: 11h00 (11am).
If you would like to check in early or check out late, kindly contact us to check if this is possible.
We provide extra services based on your requirements. You'll be served by a team of professionals who are committed to your privacy and comfort, so rest assured that you'll always be given top-quality service no matter what you need.
Bicycling into the natural green space, exploring the village or boat rowing on the snacking river through chain of caves are only some of the activities you can take part in during your stay in Ninh Binh. For your referential purpose we have prepared a list of self activities and information on the season and weather in Ninh Binh below.
What self-guided activities are available?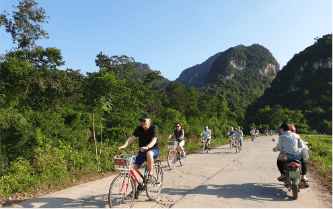 Cycling or taking a walk into natural green spaces and local villages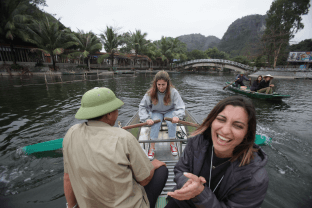 Boat rowing on the snacking river through chain of caves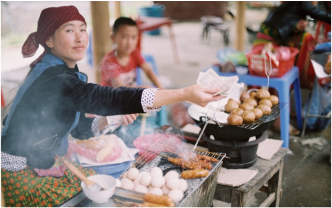 Taking food tour to discover the local gastronomy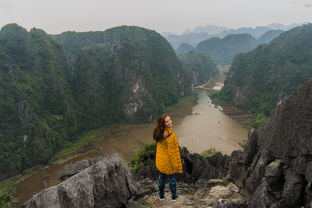 Hiking, Trekking, Rambling, Getting a motorbike & riding around is a lot of fun.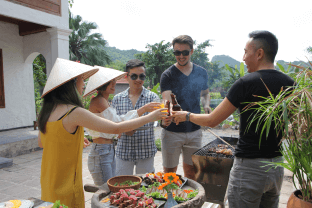 BBQ party or picnic in nature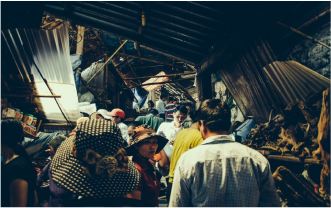 Cycling or taking a walk into natural green spaces and local villages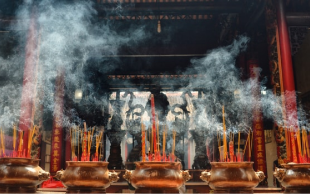 Spring
From January to March
Cold wet season
Average temperature: 19-26° C
It's the season of vitality – mountain forests everywhere are full of abundant nature, sound, color, birds and animals. At this time of year, traditional festivals are just around the corner. People are excited to bring in the new year and celebrate it with many age-old activities. You can feel a solemn, respectful atmosphere in the area – it's the perfect time to discover local culture and rituals.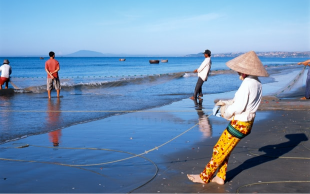 Summer
From April to July
Hot & rainy season
Average temperature: 25 – 32 °C
If you want to observe a magnificent picture of Mother Nature, there's no better time than summer in Ninh Binh.
Rice harvesting season means everywhere is dotted with green and yellow rice paddy fields. The area is full of vitality, verdant forests and quaint boats floating along the rivers. It is also the best time to watch lotus flowers blooming and soak up the natural perfume that cloaks the whole area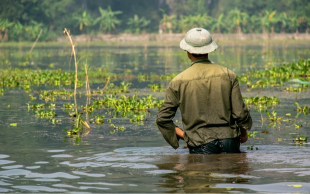 Autumn
From August to November
Sunny season & moderate temp
(Average temperature: 20 – 25 °C
According to locals, Autumn is the best time to visit Ninh Binh. If you want to spend lots of time outside, walking around, exploring places off the beaten track and sightseeing, you can expect warm temperatures and sunny days at this time of year.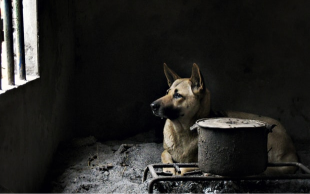 Winter
From November to December
Cold dry season
Average temperature: 13-18° C
If it's dry weather you're looking for, winter is the best time to visit Ninh Binh. The temperatures may be cooler but the sky tends to be clear and there are fewer tourists around at this time of year..