To enter Maison Quê, walk through small pebble roads lined by lush trees, wild flowers, ponds and rice fields. Inside, every corner is decorated with local goods, mostly handmade – from the thatched ceiling to the floral tiles and the antique wooden couch to each earthen jar and intricately embroidered towel. Large windows on three sides of the home open onto vibrant flora and fauna. The beauty of the old workmanship, objet d'art and abundant surrounding nature seamlessly blend into each other.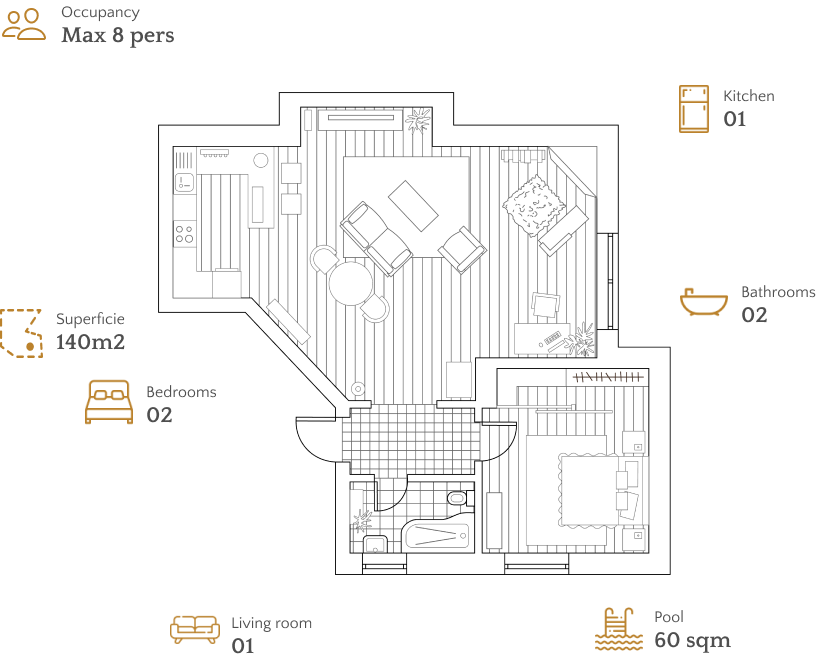 Bedrooms
An oak staircase leads you to two light-filled bedrooms on the second floor. Boasting huge windows and wooden beams, the rooms are luminous during the day and cooled by a natural breeze at night. Enjoy a restful sleep with plump pillows, soft, intricately embroidered sheets and a comfortable mattress. Large floor-to-ceiling windows on three sides open onto the picturesque scenery of mountains, peaceful ponds and bright green foliage. Nature has never been so close!
Equipments



Living room
A  room with full of old-world charm. It's imbued with tasteful & rustic carvings and paintings reminiscent somehow of a painter's studio. There you can find a quirky side table, antique old cabinet, unique painting, earthen pot & beautiful worn look ornaments that brings a totally rustic feel to the space. A sofa couch with linen cushion is dedicated for lounging & relaxing, oriented toward the large window looking out to the garden. 
Next to it, a rectangle oak dining-table with two log benches where you can feast authentic Tam Coc specialities, finish your painting, or have a cozy meal with your family.
Equipments




Kitchen
A fully-equipped kitchen resides on the left wing of the main house, complete with an oven, microwave, dishwasher, stovetop, fridge, cooking cutlery, kettle & toaster, coffee maker. The cupboards are stacked with crockery, cutlery and glassware. 
If you enjoy cooking, you can always concoct for your own your favorite dishes by the fresh, tasty & sometime, unexpected ingredients grabbed from our garden or at the local market. 
If you want to dine in the house, our resident chef will happily set up breakfast, lunch or dinner. It will be served to you at Maison  upon your request.
Equipments






Bathroom
The bathroom & toilets are located on the first floor, framed by bamboo backdrop. Marble bathtub, floral floor tiles, clay sink just effortlessly marry to each other, giving off an earthy vibe, totally relax. Locally handmade, organic shampoo, body wash and repellent, towels and linens are of top quality.
Right next to the bathroom is the utility space – an oculus where you will find a tumble dryer & the public wash-basin area.
Equipments


Pool & the terrace
Right at the front of the house, under the beautiful azure clear sky, it's the perfect place for you to chill out. Turn on your favorite song then soak into the cool water of the pool.  There is always a lounge chair & low-lying coffee table at the poolside where you can take a sunbath, finish your book or simply take a catnap in between dips in the pool.
At night, at your terrace, watch the moon and the stars twinkle away under the clear sky.