Tour outside Ninh Binh
Pu Luong Nature Reserve to Halong Bay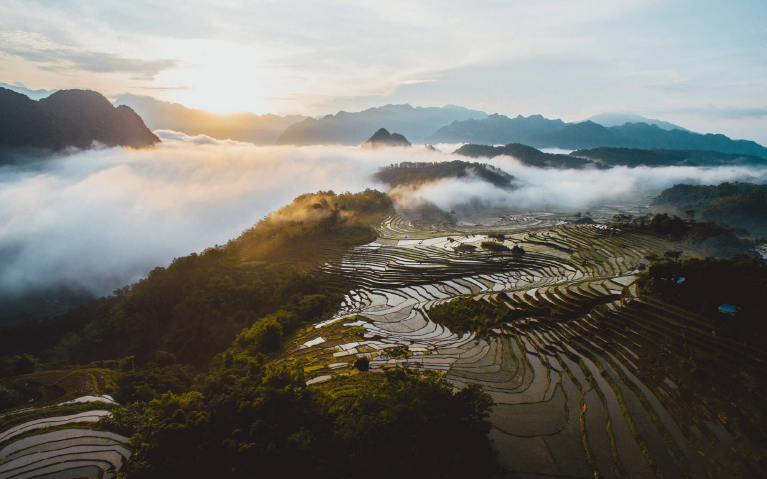 A tour from Hanoi, looping around ex-Tonkin, exploring three 'must-see' sites : Pu Luong Nature Reserve, inhabited by the Thai and Muong ethnic tribes, with its confluence of terraced rice fields and primitive forests; Trang An Landscape Complex, otherwise called 'Halong Bay on land' ; and an exceptional cruise on Halong Bay proper. While 4 days is barely enough time to complete this loop, you can, of course, extend the tour to give yourselves more time, in which case we can suggest additional activities.
Day 1. Hanoi – Mai Chau – Pu Luong (all meals included)
Morning departure from Hanoi via an express south-west road towards Hoa Binh, land of the Muong. Gaining altitude from Hoa Binh, we traverse the Muong Khen pass, skirting the mountainside towards Thung Nhuôi. A panoramic view is offered upon entry into Thai country. As we cross the massif, approaching the end of the descent, at the crossroads, we are regaled by… Mai Chau valley.
Lunch with a local Thai family in Ban Lac village followed by a short visit of this well-known tourist site, and then a one-hour car ride to the heart of Pu Luong Nature Reserve.
Settle into either Pu Luong Retreat, a boutique lodge tucked away on a hillside overlooking stunning terraced rice fields, with an ambience reminiscent of Maison Quê, or PuLuong Home, a smaller homestay with beautiful decoration that give you the full immersion experience in nature.
An easy afternoon hike through beautiful terraced rice fields and ethnic villages, a short Cham river tour in a bamboo raft, chat with the locals.
Dinner and overnight at Pu Luong Retreat.
Day 2. Pu Luong – Maison Quê (all meals included)
We head to the southern part of the Red River Delta, to Ninh Binh province and the famous 'Halong Bay on land', so named because of its watery counterpart, Halong Bay (proper).
Arrival at noon in Tho Ha, a small village west of Trang An Landscape Complex, registered as a UNESCO Natural Heritage site in 2014.
After lunch time, a bicycle ride in the neighboring villages to observe daily life as the locals work their ancestral fields of rice, corn, and peanuts. We are drawn to gaze upon a hut overlooking the rice paddies, a church, a school, a craft workshop, and a small local market, which, in turn,  encourage us to stop and ponder the lives of the Vietnamese within.
As the afternoon draws to an end, we climb aboard small paddle boats to glide into the heart of the karst outcrops of Trang An. We scull through a long cave, aptly named Buddha Cave, due to a rock in the shape of a reclining Buddha in its interior. The sampan then slips along a  reed-lined stream winding through the peaks.
After a one-and-a-half-hour boat ride, disembarkation at Linh Coc, and a 200-m saunter to get back to Maison Quê. Settle into your room with leisure time to enjoy the idyllic setting of our establishment.
Day 3. Ninh Binh – Halong Bay (all meals included)
After breakfast, transfer to the 8th Wonder of the World : Halong Bay. which, literally translated, means  " descent of the dragon"  into the waves. As per Chinese mythology, the dragon is a a reptile which ascends to the heavens during spring equinox, and retreats to the depths of the sea during autumn equinox.
Departure from Tam Coc for an east to west crossing of the boundless rice fields of the lower Red River Delta, the northern rice granary : the provinces of Nam Dinh and Thai Binh (the country's most densely populated province).
Approaching the foothills east of the lower delta, crossing the Uong Bi coal area, and arrival at Tuan Chau at noon. Boarding Secret Halong boat for a 2 day/1 night cruise of the bay.
During the cruise, discover the colossal chaos of  ghostly karst peaks, arising from emerald waters; rocky structures riddled with crevices, and caves harboring astonishing lagoons. A surreal atmosphere is created by the play of light on the clouds and mist.
The bay is teeming with activity : as a port of exit for coal export, as home to a number of floating villages dependent on fish farming, and as workplace to squid fishermen whose boats dot the watery horizon at night.
Scheduled : visiting a cave, stopping off on a small beach, and, weather permitting, kayaking and deep sea swimming.
Day 4. Halong Bay – Hanoi (breakfast and lunch included)
An awakening at the break of dawn on the bay offers an unparalleled tranquility.
While the junk slowly sets sail towards the pier, a breakfast buffet is served on board. The return part of the cruise allows you to discover some possibly previously unobserved elements of the bay.
Lunch on board and disembarkation. A 4-hour transfer to Hanoi.
Rates
Please contact us for more information. Thank you.