Tour within Ninh Binh
Jeep tour in Ninh Binh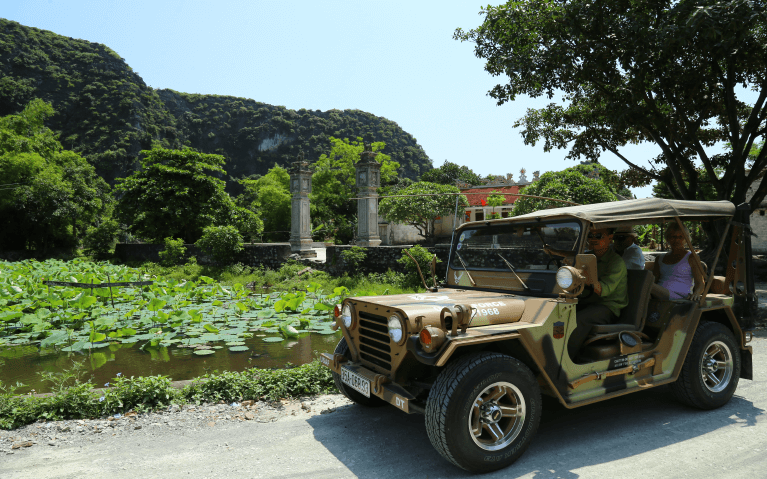 Introduction:
For those longing to explore in depth the natural and cultural beauties of Tam Coc, Ninh Binh which is also known as Halong Bay (UNESCO World Heritage Site) on land, the Jeep tour is an experience not to be missed.
Even when biking is a great way to explore the hallucinatory nature, its possibility to reach all destinations is limited. However, our Jeep, an ancient restored vehicle of US Army, would exceed the limits of the bike on tracks and small routes. Providing with an ultra-panoramic view and full sensory encounter, the jeep tour is undoubtedly a great way for you to discover Halong Bay on land.
For more information:
TOUR 1. Activities to do within one day or a half day
Set off from Maison Quê passing by beautiful roads. You could get a chance to encounter pupils going to school by bike, grannies going to the market, farmers leading buffaloes, goats or ducks, street vendors and musical containers…With much pleasure, the tourist go on boating around the base of the vast verdant cliffs to discover the picturesque landscape escaping amongst the countless granite mountains then arrive at Hoa Lu. It was the country's ancient capital since Dinh and Le dynasty from 968 to 1009. Visit the vestiges of the former capital including Emperor Dinh and Le tombs.
We keep up the trip on the road, being offered a panoramic view of Bai Dinh Pagoda, the Buddhist temple complex which renowned as the largest pagoda not only in Vietnam but also in Southeast Asia.
Lunch at a local restaurant. It's a great opportunity to taste regional specialties like goat meat or com chay, a kind of crispy rice.
Heading to Van Long, the largest submerged nature reserve in Northern Vietnam, sanctuary of 39 animals and 722 plant species. A bamboo boat ride enables the tourist to sail through the reeds and picturesque landscapes.
Caves with evocative names such as Hang Ca (Fish cave), Hang Bong (Shadow cave), Hang Rua (Turtle cave), Hang Chanh (Lemon cave) and so forth are reflected by the water mirror from the river.
In the late afternoon, sailing on a small sampan to explore Thien Ha (Galaxy cave) in the middle of bamboo jungle. Rowing following the river stream to take a tour around 800m high mountains. Afterward, return to Tam Coc Garden.
TOUR 2. Activities to do within one day or a half day
Set off from Maison Quê to the South to reach Yên Mô, the typical village of the Red River Delta, where we are warmly welcomed by Ich and his wife. There we witness a typical example of the Kinh people's architecture: red brick walls, rusty roof tile due to monsoon, now is a centerpiece for the reception of guests, extended from a second room. Simple but friendly. Bicycle tour within the village and the surrounding area. For lunch, being served with delicious meal by our host.
After lunch, bicycling toward Phat Diem Cathedral, the largest Catholic architecture in Vietnam. This architecture complex made out of stone and wooden constitutes a mixed style between Buddhist temples and Catholic churches architecture. Cycling back to the village. After saying goodbye to our host, return to Tam Coc.
On the way back home, drop by Thai Vi Temple which is one of the oldest Buddhist temples in Vietnam. The temple takes in its original architecture made out of stone respecting the principles of Oriental geomancy. It is founded among the picturesque landscape in the middle of the rice fields and have his back facing the karstic mountain Cam Son.