Taste & smell
Candied Coconut Ribbons making Class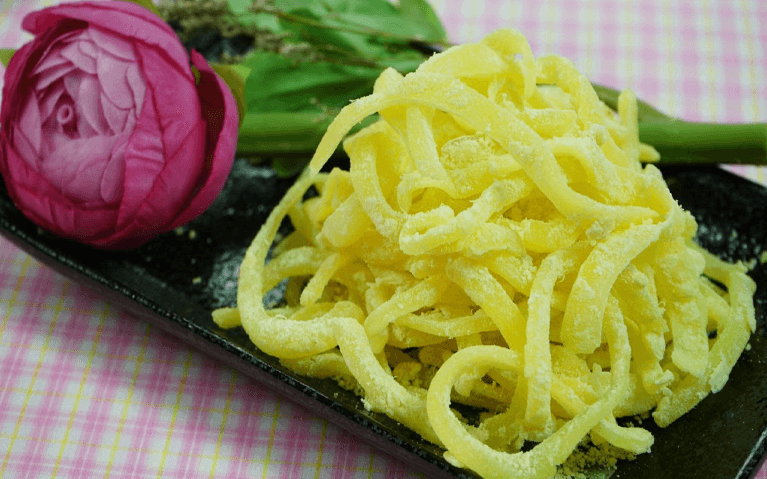 Mut Tet (Tet candied) is not a food to serve in a meal during Tet holiday, but more like a snack to welcome guests in this special period. Mut is always kept in beautiful boxes and placed at the table in the living room, and it is the main food for the owners and guests to taste when they're talking, enjoyed over a cup of tea. This once-in-year mix of snack is very large in variety, with so many tastes: ginger, carrot, coconut, pineapple, pumpkin, lotus seed, star fruit, and sweet potato. Nowadays, cake and sweet are slowly replacing jam in Tet period, but many people still love the taste this unique food – an angle of Vietnamese culture.
Candied Coconut Ribbons is the oldest jam and it still keeps taste: just sweet, moderate fat, chewy and crunchy. Candied Coconut Ribbons is an option and the favorite of the majority of people.
Place:
Teacher: Local villager
Ingredients:
Copra
Sweetened condensed milk
Sugar
Process:
First cut the coconut in half, then use the knife to cut them into thin pieces (1mm)
Soak them into warm water to remove oil.
When coconut is dried, pour sugar and sweetened condensed milk and mix well. A given ratio is: 1kg coconut-0,5kg sugar-100ml milk.
Mix thoroughly the mixture and marinate in 10 – 12 hours until all sugar is melted.
Pour all mixture coconut in step 4 into pan, cook in small heat. Sometimes you use chopsticks to stir well.
Cook until all water in coconut boils, you use spoon to stir until all sugar is dried and absorb on faces of coconut. Turn off the heat.