Local handicraft
Traditional embroidery class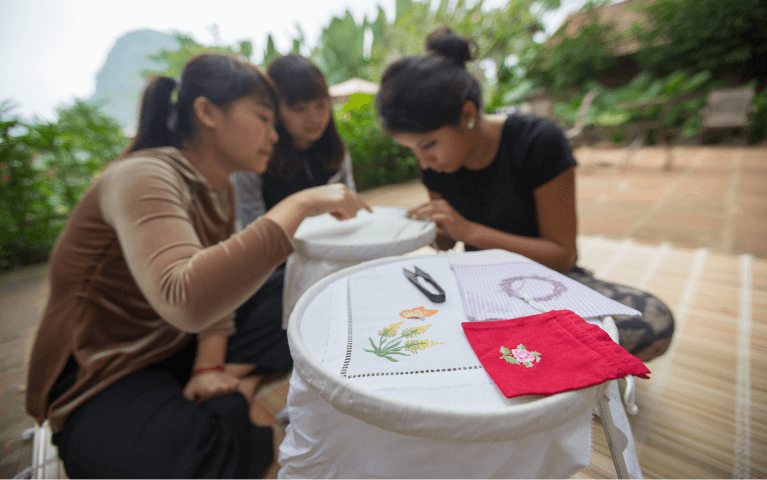 According to local legend, embroidery was practiced by the local inhabitants for thousands of years when the Tran Kings arrived in the region of Ninh Binh (1225-1400). Queen Tran Thi Dung gave embroidery lessons to local villagers so that they could make embroidery products for royal families or for decoration of temples, pagodas and communal houses. Since then, embroidery continues to be handed down from generation to generation. Van Lam village in Ninh Binh is considered to be one of the cradles of traditional embroidery which is very famous in Vietnam. In the village, local people in all ages with their skilled hands can make an embroidery product like towels, tablecloths, curtains, sheets, handkerchiefs, pictures…
Teacher: Local villagers
Materials:
Circle frame: In metal, of 25 in 30cm of diameter and about 35cm of height; fabricated steel stainless; encircled with fabric to keep the more tense cloth.
Fabric: For the beginners, it is preferable with 100 % cotton or 100 % flax
Thread: Various colors, suitable for several linen types to be embroidered
Needles: Choose needles with pointed end, which allow passing easily across the fabric
Thread clippers: to unstitch.
Sea rippers: Small sharp hook used to unstitch
Steps:
Choose an embroidery pattern available in stores or customize the model as you like.
Place the fabric in embroidery frame.
Needle thread
Start to embroider.
Complete your product
Use and protection:
100% cotton fabric: washing and ironing at a maximum temperature of 40°C.
Colored fabric: washing at 40°C without any chemicals or soap; ironing at the same temperature.
Keep the embroidery products in a dry, ventilated place.