Khám phá ẩm thực
Làm bánh chưng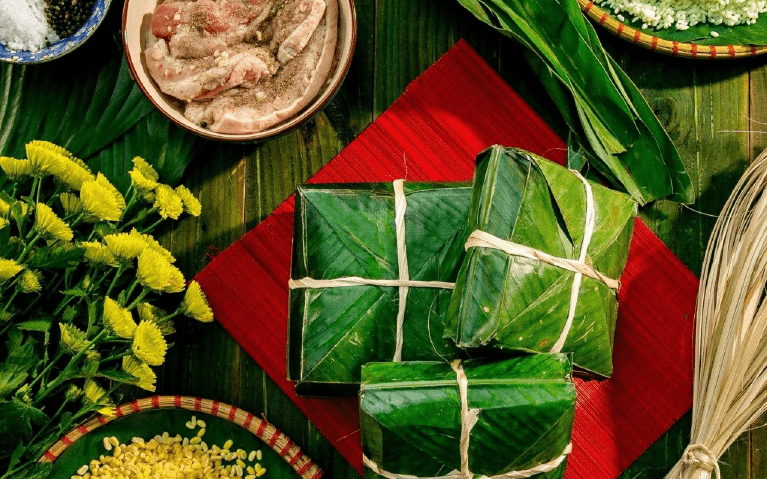 To celebrate the Lunar New Year, Vietnamese gather with their family member, decorate their house and prepare for special traditional dishes. A few days before Tet, the Vietnamese family member often cooks Banh Chung, which is the essential food and culinary symbol of the Vietnamese New Year. It has a difference recipe from others region and family.
This is the traditional cake which is cooked from 4 main ingredients: the "dong" leaves, glutinous rice, mung beans and pork.
In northern Vietnam, they makes delicious Chung Cake (in Vietnamese banh chung) square form (symbol of the Earth because the ancients believed that the Earth was flat, made from glutinous rice, mung bean seeds and pork belly, wrapped in leaves "dong" (those that are very difficult or impossible to find in France) or by banana leaves.
In the South (but also in the center), they manufactures Tet Cake, cylindrical form (symbol of heaven and fertility) with the same ingredients as the banh chung
Place: The small courtyard overlooking the swimming pool in Maison Quê
Teacher: Local people
Ingredient
Sticky rice
Mung beans shelled
Pork belly (about 100g pork belly banh chung for)
"Dong" leaves (4-5 leaves for a banh chung)
Other: fish soup in brine, sugar, poive mill, salt
Process: 
– Sticky rice: Must first wash and soak the rice for a night (at least 12 hours).
– Mung beans: Wash the seeds hulled mung beans. Soak at least two hours in warm water. Rinse and drain. Cook beans mung beans to steam for about 20 minutes. Add a pinch of salt. Mix and make the flattened balls.
– Pork belly:
+ Cut the pork belly into a cube of 4-5 cm
+ Marinate meat with sauce, fish sauce, sugar, pepper, salt … and keep it in fridge.
– Leaves "dong": Wash and gently wipe with a clean cloth to dry the leaves "dong".
–  Packaging Banh Chung.
– Boil Chung Cake in 8 hours.